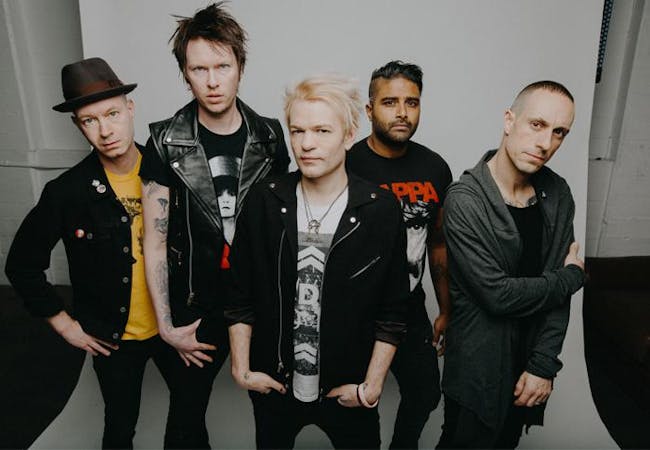 Sum 41
$28.00 - $204.00
NEW VENUE
NEW VENUE
The Sum 41 show on Sunday, October 6 has been moved to The Vic Theatre, located at 3145 North Sheffield. Tickets purchased for the Riviera Theatre will be honored at The Vic - no need to exchange.
Tickets for The Vic can be purchased here.
Sum 41 have partnered with PLUS1 so that $1 from every ticket goes to War Child to support children and families in communities affected by war throughout the world https://warchildusa.org/
SUM 41
Website | Facebook | Twitter | Instagram | Spotify | Apple Music
In the late summer of 2018, Sum 41 frontman, Deryck Whibley, stepped off the tour bus after three solid years of worldwide touring, turned on the console in his home studio, picked up a guitar, and started pouring out song after song. Feeling incredibly inspired from 2016's critically-acclaimed Europe Impala Gold certified, #9 Billboard Top Albums charting, 13 Voices album and touring cycle, Whibley feverishly started putting together songs from the cascade of ideas flying throughout his mind. Relentless touring and immense energy from some of the largest crowds the band had ever played in front of bred a multitude of ideas that Whibley had stockpiled and couldn't wait to record. Within three weeks, the majority of the music for the new album, Order In Decline was written.
With much of the music written, Whibley focused his attention on the lyrics. "I've always just let words come out and whatever they are, they are," Whibley remarks, "I usually just follow and let them flow." Unconsciously, Whibley realized that there was a persistent theme in his stream of consciousness that ultimately became a critical response to the world and society at large. Traveling the world and observing how pervasive division, racism, and hate had become, punctuated by the repulsive social and political turmoil invading his own home nations of the United States and Canada, Whibley found himself writing about a great many things he didn't necessarily want to write about. "The last thing I wanted to do was write a social or political protest record, and Order In Decline is not that," Whibley clarifies. Instead,Order In Decline is a burst of uninhibited feeling, a page out of his journal, a window into his soul that reflects on extremely personal and vulnerable events, because as he confesses, "It's also very hard not to have feelings about everything that's going on in the world."
Armed with the most honest and personal songs of his career, Whibley continued to pour everything he had into the album. Producing, engineering, and mixing the album in his home studio, Whibley pain-stakingly crafted and fine-tuned each song, highlighted by Deryck's fast and full riffs, guitar solos from lead guitarist/backing vocalist Dave Brownsound, harmonious chords from guitarist Tom Thacker, and the heavy, heart-thumping rhythm section of bassist/backing vocalist Cone McCaslin and drummer Frank Zummo. The result is undoubtedly Sum 41's heaviest and most aggressive album in their storied career, while also being its most dynamic and raw.
For each fiery, arena-rock entry (i.e. "Out For Blood" – a down-tuned skate-punk number with an insane guitar solo and "45 (A Matter Of Time)" – a groove-heavy mid-tempo rager that's about exactly who you think it is), there is an equally powerful, vulnerable ballad that hits just as hard. The honest process of writing Order In Decline, in which Whibley chose to not hold back any feelings, ultimately released a weight that has plagued the frontman in recent years. For the first time in Sum 41's 23-year career, Whibley excavated one of his most personal stories ever: "Never There," a powerful track about the connection he shares with his absentee father, who he has never met. He also shares his feelings on mental health awareness the best way he knows how, by closing out the album with a beautiful ballad called "Catching Fire" about those he has lost and almost lost throughout his life. The song holds multiple meanings, as at its core, it is also a love song about his wife and the prospect of loving and losing someone so significant to his life.
After over 15 million records sold worldwide, a Grammy Award nomination, 2 Juno Awards (7 nominations), a Kerrang! Award in 2002, as well as multiple Alternative Press Music Awards, Sum 41 is quite simply a rock band – uncompromising and honest with no intention of slowing down.
Sum 41 consists of five members including Deryck Whibley, lead guitarist/backing vocalist Dave Brownsound, co-lead guitarist/backing vocalist Tom Thacker, bassist/backing vocalist Cone McCaslin and drummer Frank Zummo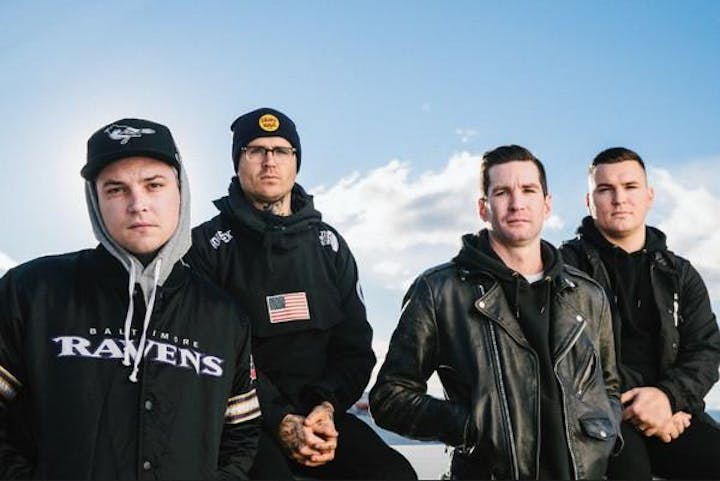 THE AMITY AFFLICTION
Facebook | Twitter | Instagram | YouTube | Spotify | Apple Music
The Amity Affliction are a Australian post-hardcore band formed in Gympie, Queensland in 2003 by high school friends Ahren Stringer and Troy Brady. The name is a tribute to a mutual friend they both lost to a car accident. Along with bassist Garth Buchanan and drummer Lachlan Faulkner, the group released their self-titled demo "The Amity Affliction" in 2004. It wasn't until late-2004 that Joel Birch would join as a vocalist. In mid-2005, the band released their self-titled EP "The Amity Affliction". Garth and Lachlan would depart from the group in 2007, and the lineup change would consist of hiring Troels Thommason on drums, Chris Burt on guitar, Ahren would take up bass, and Trad Nathan on the keyboard. Together, they would release their second EP "High Hopes" in the same year. In 2008, Troels would depart from the group to be replaced with Chris's brother, Ryan Burt. Their first album "Severed Ties" would be released in the same year through Boomtown Records. Late-2009 would see the planned departure of Chris from the band, with Clint Ellis to take his place. In April 2010, the group would begin recording their second album, "Youngbloods", which would be released on June 18th through Boomtown Records, as well as Shock Records. In October 2010, "Glory Days" was announced and would be released on November 26th as a compilation of previous EPs, Demos, and Youngbloods B-Sides. On February 8th 2012, the band signed with Roadrunner Records and began recording their third studio album on May 7th. "Chasing Ghosts" would be released worldwide by September 18th, following guitarist replacements leaving Dan Brown on guitar. The 2013 Vans Warped Tour proved to be a defining point for the group, when Joel Birch nearly died during the Pittsburgh show due to severe dehydration. This event was the basis of the single "Pittsburgh", which was the first single off their upcoming fourth album "Let The Ocean Take Me", which was released on April 14th, 2014. Troy would depart from the band on October 11th 2014, leaving Ahren as the only remaining founding member. The band would release a documentary about the group on July 10th 2015, titled "Seems Like Forever". The band announced their fifth album "This Could Be Heartbreak" via Facebook on May 18th 2016, which was released on August 12th. This album would be the first to include clean vocals from Joel, which was a sign of the band's migration to a softer sound. Following numerous tours, Ryan announced his departure from the group on February 5th, 2018, citing mental health concerns. On June 20th, the group released the music video for Ivy (Doomsday), which was one of three parts in a short film, as well as the first single for their sixth and most controversial album to date, "Misery", which was released August 24th, with Joe Longobardi on the drums for recording. It was announced on December 20th, 2018 that Joe would be joining the group.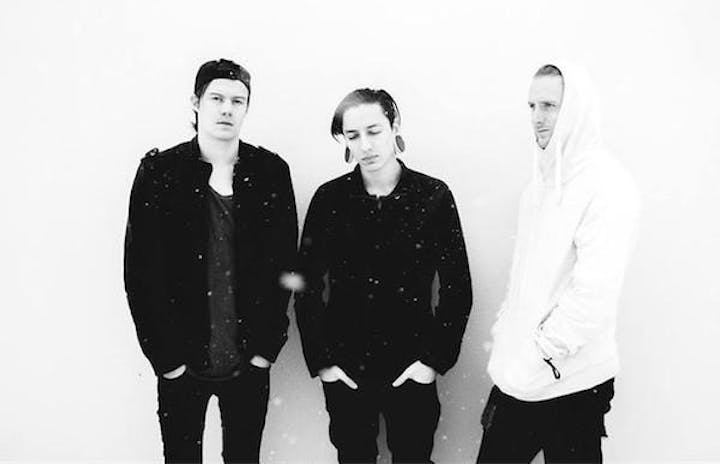 THE PLOT IN YOU
Website | Facebook | Twitter | Instagram | YouTube | Spotify | Apple Music

The Plot in You is an American metalcore band, formed in 2010 in Hancock County, Ohio. Originally a side project of former Before Their Eyes member Landon Tewers, the group is composed of Tewers, guitarist Josh Childress and bassist Ethan Yoder. They have released one EP, three studio albums, and four music videos.

Landon Tewers - Lead vocals (2010–present) Founder, former guitarist/vocalist of Before Their Eyes

Ethan Yoder - Bass (2010–present) Founding member

Josh Childress - Guitar (2010–present) Founding member

Alex Ballew - Drums (touring 2014–2015) Also drummer of Erra

Venue Information:
Riviera Theatre
4746 North Racine Avenue
Chicago, IL, 60640