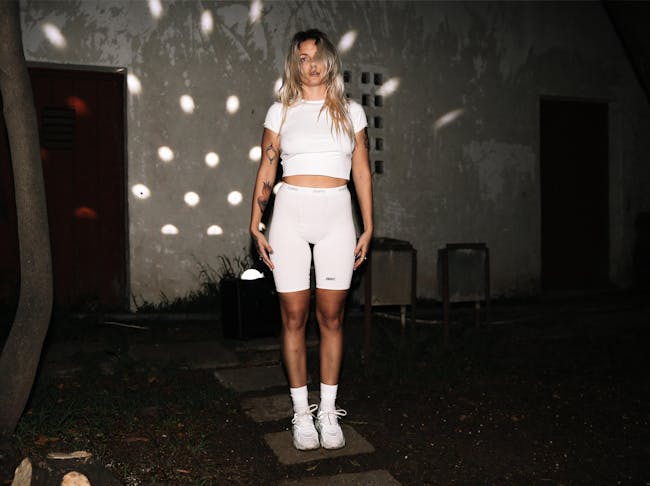 Tove Lo
Alma
with Alma
Public Onsale Friday, 9/20 at 10:00am
No backpacks, bags, laptops or tablets allowed in the venue. For a full list of prohibited items, click here.
TOVE LO
Website | Facebook | Twitter | Instagram
Tove Lo vividly recalls her first heartbreak. His name was Erik, and he was breathtaking. "I fell in love with him right away," she says. But as we've come to learn from her songs such as "Habits (Stay High)," romance is complicated. Erik liked her friend instead; Tove was gutted. "I cried after that forever," she says, laughing. Did she mention she was just eight years old?
To this day, the highs and lows of love's labor's lost continue to be the Stockholm native's area of expertise. Her second album, Lady Wood (out October 28 on Island Records), deeply navigates the tributaries of sex and love, while its cheeky title debunks her unofficial moniker as The Saddest Girl in Sweden. "When people meet me, they're like, 'Oh, you're actually happy.' I'm not going to show up drunk and cry my heart out to you," she says. Then adds, joking, "Well, not every time."
It is true, however, that Tove enjoys exploring the darker side of life. Lady Wood's first single, "Cool Girl," is inspired by the twisted thriller Gone Girl and contemplates the hollowness and ironies of affecting an easygoing, feminine persona to ensnare a man. "When you create, you try to get out of your safe zone," says Tove, who writes her own music and lyrics. "It's okay to be pissed off or depressed. You'll pick yourself back up. We shouldn't be so scared of our emotions."
To that end, Tove summoned a tsunami of hormones, intimacy, and regret with her platinum 2014 debut, Queen of the Clouds. And she managed to distill these emotions into poignant sincerity. Pitchfork applauded Queen of the Clouds as a fascinating study in contrasts: "bruised, brightly arranged pop songs that feel grand but not excessive." The lushly louche "Habits (Stay High)" hit No. 3 on Billboard's Hot 100, and "Talking Body," an homage to lust and taboos, hit No. 12. "Coming from a small country, I was shocked to have that kind of success. It meant a lot to me," she says. "There's this idea of what a good female role model is. It's usually not what I'm doing. But if I have an impact, if it makes people speak their minds, that's a good thing."
Lady Wood expands on its predecessor by being more conflicted, more nuanced, more feminist. "There's no real word for, like, a girl getting a hard-on," she says of the album name, its title track a percolating dismissal of mores. "I feel like it's a powerful word that makes me laugh a little bit." In Tove's world, humor and heartache are essential components of life. "'Lady Wood" describes the album well, because there's a lot of passion-attraction songs—the leading-up-to- the-first-kiss moment, an intense high."
The album is broken into two chapters: Fairy Dust and Fire Fade. "These are basically the emotional curves I go through when I'm chasing any kind of rush," she says. This can refer to everything from romantic sparks to the feelings evoked when she's on stage. "Playing the last song in my set, where I'm holding out the mic as everyone sings to me—that's the ultimate high," she says. "Then I run off stage, close my dressing-room door, and it's just, like, quiet. You were in this rush, and now you're like, 'What just happened?'"
The Fairy Dust, in songs such as the seductive slow-jam "Influence" and the prowling title track, refers to anticipation. "Like when the adrenaline starts to kick in. It gives you butterflies. It's that tingling sensation of sex," she says. The Fire Fade of the swelling, unguarded "Keep It Simple" and the cocksure "WTF Love Is" captures the moments when that thrill starts to wear off. "You feel a little bit uneasy. And you really want to chase that first feeling again."
Tove travels with a small studio set-up—keyboard, mic, laptop—to lay down ideas whenever the mood hits. While on tour with Katy Perry in late 2014, that process was cut short after doctors discovered cysts on her vocal cords. "It was intense, because I had to do voice rehab after surgery. It made me realize, 'Fuck! This is the one thing that actually keeps me level-headed,'" she says. "I was about to go crazy after two months of not singing. I started writing the second it was okay to sing again."
Time magazine once marveled at Tove's "razor-like precision" as a songwriter. In reality, she has been deftly penning tracks for more than a decade. She started at age 11 with a homegrown girl- group (writing their only song, "Crazy"), graduated to the indie-rock band Tremblebee in her teens ("we played all the shittiest bars in Stockholm"), then took on a career-changing role in Max Martin's songwriting collective Wolf Cousins. "He's a great mentor," she says. "Always telling me, 'Produce more! Keep doing what you're doing! Don't let that part go.'"
She took his advice to heart and has become a go-to collaborator. Tove co-wrote and sang on Nick Jonas' "Close," Flume's "Say It," Years & Years' "Desire," Broods' "Freak of Nature," Alesso's "Heroes (We Could Be)," and sang on Coldplay's "Fun."
But recently, the multitasker has focused on fleshing-out Lady Wood. Tove began in Sweden, then L.A., stretching her voice from pop to R&B to soul. She wrote her most revelatory work after joining musicians from the Neon Gold imprint on a week-long retreat to Nicaragua. The album's most quiet, avant offering, "Vibes," was co-authored there with U.K.-based composer Joe Janiak (Ellie Goulding, Adam Lambert) after a catamaran ride involving rum, dancing, and an escort from the happiest dolphins they'd ever seen. "No one can paint a picture better than Joe," she says of the track, in which they sing about a relationship from two points of view. "It's that moment right before the kiss when you're looking intensely into someone's eyes."
She recorded Lady Wood in the first three months of 2016, capped off by a session with rapper Wiz Khalifa, whom Tove personally asked to guest on "Influence." Written around a bassline, it covers familiar territory for Tove: the mixed virtues of altered states. The track refers to those times "you accidentally say too much and regret it the next day," she says. "But the song is about the actual moment you're feeling all these things, and you're like, 'This is fucking awesome! I'm in love with everybody!'" Given free rein in his rhymes, Khalifa recorded his part—rapid-fire verses contrasting the song's atmospheric haze—in one take. "We hung out in the studio and smoked out of an apple bong," she says. "It was the highest I've ever been in my life."
As an artist, Tove is boldly unedited, proud to be rewriting the rules of pop-starlet engagement. "You're supposed to speak for everyone. You're supposed to not swear. You're supposed to make sure you don't do anything that will provoke anyone too much," she says, laughing. "That just pisses me off and makes me want to do it more."
And there is demand for her supply. "The reaction has been really amazing. I feel the support of a lot of female artists and writers," she says. "In the beginning, I was like, 'Ah, no one will notice.' But now I can tell that I have an impact. My fans feel like they can relate to me. It's a crazy feeling that you can mean so much to someone you've never met. Most of the time, they tell me their breakup stories, and I share another one of mine."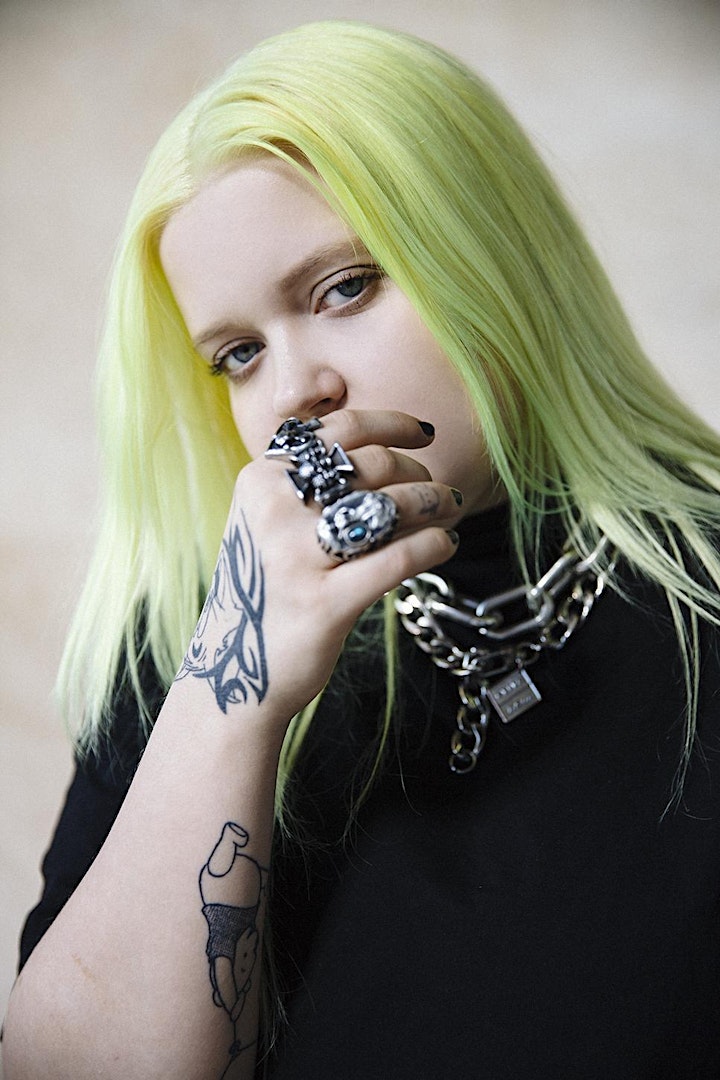 ALMA
Website | Facebook | Twitter | Instagram | YouTube | Spotify

Five reasons to fall in love with Alma: mad style, sassy attitude, innovative lyrics, cutting-edge hooks and a voice you simply won't forget. Alma is truly special -- the polar opposite of a plastic pop princess. She's an edgy, shameless singer-songwriter, who aims for authenticity in everything she does. Her urban tunes are filled with interesting contrasts: they are sharp, yet vulnerable and approachable, yet cool. She's not afraid to mix classic pop with rap elements, old soul music and urban beats. Music has been Alma's sanctuary and source of self-confidence throughout her life. Her lyrics revisit the difficult times she's been through, but remain hopeful. Although she writes power anthems for herself, her texts are exceptionally easy to relate to. 20-year-old Alma sees her young age merely as an asset. She knows exactly what she's singing about. "Twentysomethings experience a lot of stuff for the first time. It's an era of extreme feelings." These intense feelings shine through on each of Alma's unique tracks. She's one in a million. Press play and get hooked.

Venue Information:
Riviera Theatre - Jam Productions
4746 North Racine Avenue
Chicago, IL, 60640